Treatment 5: Interplanted Boulders
This treatment was used primarily in Garden areas where granite boulders already existed along the shoreline. Additional imported boulders were utilized, and the existing boulders were redistributed and reset into existing grades along the same and opposite shores to create an intricate boulder-protected shoreline that includes some smaller stone backfill at the normal water line. Fifteen-inch to 6-foot wide boulders provide the appearance of outcroppings transitioning from below the normal water line to two feet above the water line. This gives an additional visual texture to this narrow water channel in the landscape, while providing effective shoreline stabilization. The areas upslope of the boulders had plantings tolerant of somewhat drier conditions.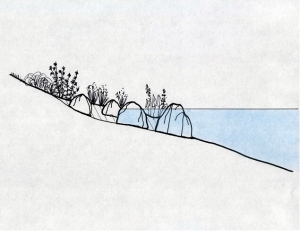 Treatment 5: Cross-sectional view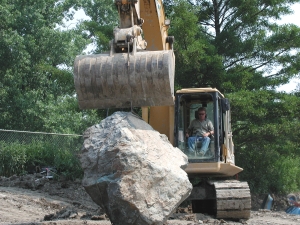 Treatment 5: Boulder installation
This technique modestly improves fish habitat, allows softening of the hard edge to reduce reflection of wave energy (compared to sheet piling), and provides a stable shoreline. The primary disadvantage is that this technique provides less aquatic plant and wildlife habitat than treatments with broader planting shelves.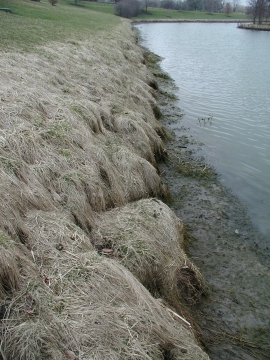 Treatment 5: Before shoreline restoration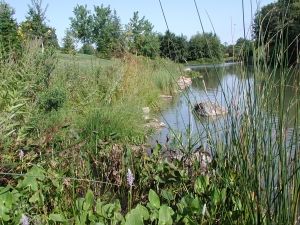 Treatment 5: After shoreline restoration